Skip to Content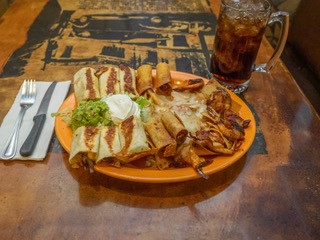 NEW! Mr. Papa's* $13.99
Served with half dozen camarones flores, grilled chicken flautita, steak flautita, shrimp flautita, beef taquitos and cheese nachos along with sour cream and guacamole on the side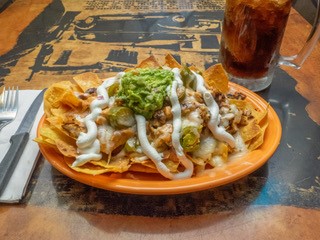 Nachos Supreme* $10.99
Choice of grilled chicken, grilled steak, beef (shredded or ground), topped with monterey jack cheese, refried beans, fresh jalapeños, topped with sour cream and guacamole.
- Add Cheese Dip $1
California Shrimp Cocktail $13.99
Served on glass bowl with shrimp, pico de gallo, California avocado, and salt crackers on the side
Zacatecas Taquitos $8.99
Crispy corn tortillas filled with monterey jack cheese, your choice of chicken or shredded beef, and served with sour cream and guacamole on the side
Cheese Nachos $7.99
Topped with refried beans, jack cheese, sour cream and guacamole
- Add Cheese Dip $1
Papas Flautitas* $9.99
Filled with jack cheese, pico de gallo, your choice of grilled chicken or steak, and served with sour cream and guacamole on the side
Cheese Quesadillas $8.99
A flour tortilla filled with monterey jack cheese and served with sour cream and guacamole on the side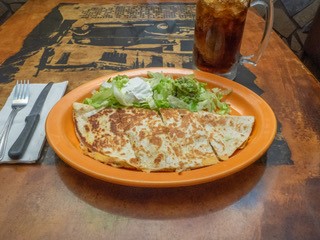 Homemade Quesadillas* $10.99
A flour tortilla filled with monterey jack cheese, pico de gallo, your choice of chicken, steak, carnitas, beef (shredded or ground), or adovada, and served with sour cream and guacamole on
- Add Shrimp $9.99
Fajita Quesadilla* $9.99
A flour tortilla filled with monterey jack cheese, pico de gallo, grilled veggies, and your choice of chicken, steak, carnitas, beef (shredded or ground), or adovada
– Add Shrimp $10.99
Fajita Nachos* $11.99
Served with melted monterey jack cheese, refried beans, grilled veggies, topped with sour cream, guacamole, and your choice of chicken, steak, carnitas, beef (shredded or ground)
- Add Shrimp $11.99
- Add Cheese Dip $1
Mochito's Buffalo Wings $11.99
Jumbo chicken wings in a spicy chile sauce and served with ranch dressing
Fresh Tableside Guacamole $6.99
Prepared just the way you like it with fresh avocados, spicy jalapeño chiles and a special blend of herbs and spices
NEW! Mahi Salad* $13.99
Mahi served with romaine lettuce and topped with pico de gallo and caesar dressing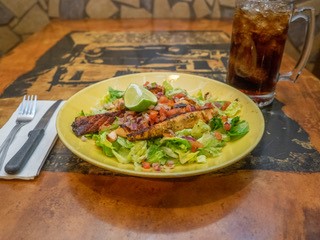 NEW! Salmon Salad* $13.99
Served with romaine lettuce, caesar dressing and pico de gallo
Homemade Tortilla Soup $9.99
Our original recipe made fresh throughout the day. Garden-fresh vegetables, jack cheese.
- Add chicken, rice and fresh avocado $1
Chicken Caesar Salad* $10.99
Served with romaine lettuce, caesar dressing, pico de gallo, monterey jack cheese and tortilla strips
- Add Shrimp $10.99
Warm Fajita Salad* $11.99
Served with romaine lettuce, caesar dressing, grilled veggies, pico de gallo, monterey jack cheese, tortilla strips and your choice of chicken or steak
- Add Shrimp $11.99
Taco Salad* $10.99
A flour shell filled with refried beans, iceberg lettuce, caesar dressing, pico de gallo, sour cream, guacamole, monterey jack cheese and your choice of chicken, steak, carnitas, beef (shredded or ground)
Fajitas Tostada* $11.99
A flour shell filled with refried beans, iceberg lettuce, grilled veggies, pico de gallo, sour cream, guacamole, monterey jack cheese and your choice of chicken, steak, carnitas, beef (shredded or ground)
- Add Shrimp $11.99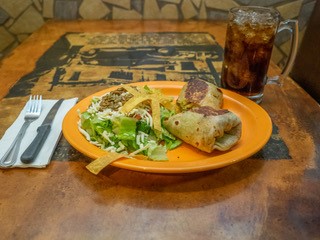 Grilled Mexican Caesar Wrap* $11.99
A flour tortilla filled with iceberg lettuce, caesar dressing, jalapeno mayo, guacamole, monterey jack cheese, pico de gallo, your choice of grilled chicken and your choice of caesar salad or fries.
- Add Steak or Shrimp $11.99
Contact us for mouthwatering Mexican dishes that really satisfy. We proudly serve Asheville, NC, and the surrounding areas.
*THESE ITEMS MAY BE COOKED TO ORDER. CONSUMING RAW OR UNDERCOOKED MEATS, POULTRY, SEAFOOD, SHELLFISH, OR EGGS MAY INCREASE YOUR RISK OF FOODBORNE ILLNESS
See Why We're The #1 Mexican Restaurant in Asheville, NC!